SUPPORTIVE SUPPLEMENTS
Compiled from the recommendations of owners who are members of DISA's IVDD Support Group
Before making a decision please refer to our Disclaimer.
ROSE HIP VITAL CANINE
ESTER C (WAGNER)
GREEN LIPPED MUSSELS
In addition to their inflammatory healing properties, these mussels are considered a superfood because they contain a huge variety of vitamins, minerals, amino acids, Omega-3 fats, antioxidants, enzymes, and many more nutrients.
https://www.dogsnaturallymagazine.com/green-lipped-mussels-dog/
GLUCOSAMINE & CHRONDROITIN
This supplement provides the building blocks to manufacture collagen and proteoglycans in the joint cartilage and the synovial membrane which produces the fluid lubricating the joints. Chondroitin has an additive effect alongside glucosamine helping to maintain flexibility and mobility.
TURMERIC - GOLDEN PASTE
Clinical studies have shown that curcumin in turmeric is a powerful antioxidant. Antioxidants neutralize free radicals which cause the painful inflammation and damage to joints affected by arthritis. The anti-inflammatory properties, combined with the fact that turmeric is a natural antiseptic and antibacterial agent, suggests that it's also useful for disinfecting and treating skin injuries.
HOW TO MAKE GOLDEN PASTE
½ cup organic turmeric powder (Make sure it's organic turmeric powder to be sure it contains lots of curcumin) 1 to 1 ½ cups filtered water 1 ½ teaspoons freshly ground black pepper (Grind organic black peppercorns in a coffee grinder or magic bullet) ¼ cup organic cold pressed virgin olive or coconut oil (Coconut oil is a great choice because it also has great health benefits) Mix the turmeric with the water in a pan, starting with 1 cup water and adding more only if needed. Stir the liquid on medium/low heat and in about 7 to 10 minutes, it should form a thick paste. If your paste looks watery, just add a bit more turmeric and heat it for another couple of minutes. Once you've got a paste, add the pepper and oil, then stir it very well. Allow the mixture to cool, then place it in a jar with a lid and store it in your fridge. Ideally, you should store the paste for no more than two weeks … after that, you'll want to make a fresh batch. Giving Turmeric Golden Paste To Your Dog You can add the Golden Paste directly to your dog's meals by mixing it with some water or kefir. Most dogs don't mind the taste at all. Start with about ¼ to ½ tsp, depending on the size of your dog. You can increase the amount from there, up to about a Tbsp for larger dogs. TIP: Turmeric leaves the body quickly, so it's best to feed smaller amounts a few times a day.  
PAW BLACKMORES Fish Oil 500 Veterinary Strength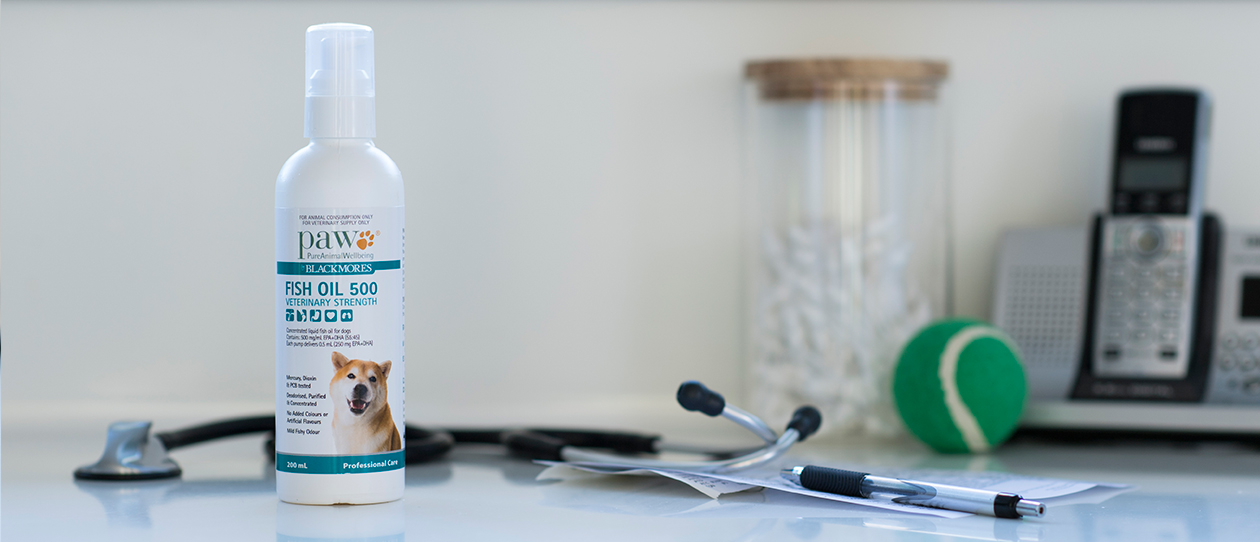 https://www.blackmores.com.au/products/pet-health/joint-care/paw-fish-oil-500-veterinary-strength